National and School Champions
The New7Wonders is pleased to announce the winners of the National Champions and School Champions programs! While millions around the globe watched the results on television or via broadcast on New7Wonders.com, two lucky people were in Benfica Stadium in Lisbon, Portugal, to experience the drama and announcement of The Official New 7 Wonders of the World live.

The National Champion is Moises Bendezu Sandoval of Peru and the School World Champion is William C. McGinnis Middle School in Perth Amboy, New Jersey, USA. Fourteen-year-old student Diana, along with her mother, represented the school at the event. Thanks to their tremendous commitment and energy, Moises and the Perth Amboy public school initiated the most votes in the National Champion and School Champion contests held on the New7Wonders website.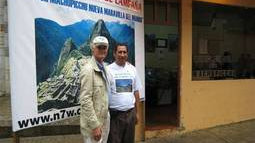 There were more than 5,000 School Champions and 1,500 National Champions worldwide. Peru's Moises won amongst more than 1,500 champions in some 80 countries, with runners-up in India and the United States. Perth Amboy's students topped their list of more than 5,000 New7Wonders School Champions from approximately 40 countries, with the most notable runners-up amongst the schools in Peru, Brazil, Chile, Canada and Jordan, as well as several other school districts in the U.S.
Congratulations!
Your school can be an N7W school champion, too! Start getting teachers and students excited and involved with some classroom projects, then send us your work to share with students everywhere and the whole New7Wonders community.