Lisbon is now part of Global Memory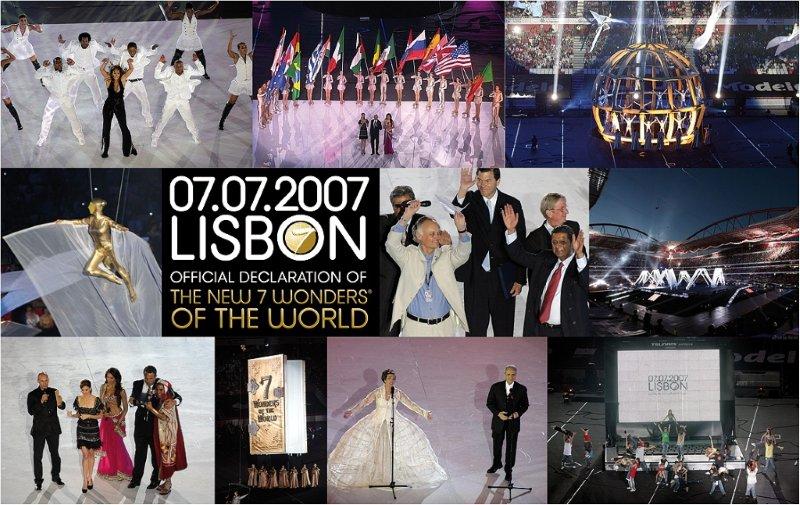 The Official New 7 Wonders of the World, as announced in random order at the Official Declaration Ceremony on 07.07.07, are: The Great Wall of China, Petra, Chichén Itzá , the Statue of Christ Redeemer, the Colosseum, Machu Picchu and the Taj Mahal. More than 100 million votes were cast worldwide. The New 7 Wonders are all equal – there is no rank among the list. Actresses Hilary Swank and Bipasha Basu and actor Ben Kingsley hosted the ceremonies in Lisbon's Benfica Stadium.
Bernard Weber, who launched the New7Wonders Foundation to unite the world by honoring our common heritage, announced the organization's next project: The New7Wonders of Nature. Amir Dossal, executive director of the United Nations Office for Partnerships, recognized the New7Wonders Foundation's ongoing efforts to promote the UN's Millennium Development Goals. Among highlights of the evening were performances by Jennifer Lopez and Jose Carreras, as well as Dulce Pontes, Chaka Khan, Alessandro Safina and Joaquín Cortés.
7 Wonders were chosen because the original list of Ancient Wonders, drawn up more than 2,000 years ago, contained 7 and because 7 has been shown time and time again to be the number of things that the average person can remember. The Pyramids of Giza also were honored by the New7Wonders project as the only remaining of the 7 Ancient Wonders of the World.
Lisbon is now part of the making of history, the only and exclusive city in the world where the historical result of over 100 million votes was revealed: the Official Declaration of the New 7 Wonders of the World. And with this, Lisbon is now part of Global Memory for ever.
Moderation of Lisbon 07.07.2007
Representatives from The Official New 7 Wonders of the World receiving their plaques.